The 5th Workshop of Structural Biology in the Helmholtz Association of the Cross Programme Activity will occur December 17 – 18, 2019 at the DKFZ in Heidelberg.
Register now and make hotel reservations in advance of the holiday season in Heidelberg.
More details on the program will follow soon.
CONTACT INFORMATION
EREC STEBBINS - Conference Host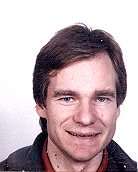 JOHAN ZEELEN - Conference Host
Registration
Registration for this event is currently open.
The call for abstracts is open
You can submit an abstract for reviewing.